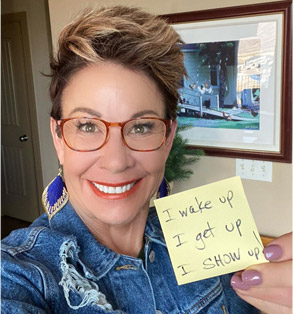 As we move through this experience of a global crisis, it is normal to feel fear, confusion, and stress. We are currently living in a world that we do not recognize. The more we can stay calm, stay informed, and follow inspired action, the more successfully we will move through this.

Below, you will find several healing resources that will support you and your family at this time. Please take advantage of my support below and share with others.

God bless you and stay healthy. My team and I are here to support you.

—Carol Tuttle
Clearing for Coronavirus Fear and Pandemic
Take a moment and notice your state of mind and feeling. Are you feeling aware and confident, or are you scared? This free clearing session will help you calm your nervous system, which will help your immune system stay strong at this intense time. Just follow the steps in the video and feel yourself become more centered and calm.
Feeling a Lack of Motivation During All Your Time at Home?
I've been hearing a lot of coaches and motivators telling us that we need to stay motivated and take advantage of our stay-at-home status: use this time to skill up, get disciplined, finish projects, learn something new, get a lot done. I thought the same thing at first, but I've changed my mind.

Here's why you shouldn't fight it and just go with it. (Plus 5 daily priorities that you can set as your actual markers of success.)
One Simple Technique to Ground You and Your Family Members
A lot of alarming, dramatic changes have shown up fast for many people. Honestly, most of us have not had time to process the emotions that have come up—especially if unexpected lifestyle changes have caused financial stress or put you in close quarters with family. The energy you're processing needs to be accounted for, or it can damage relationships.

Try this simple technique that has huge value for yourself and your family. It's called the spinal flush. You can do it in seconds and it will help so much.


Extensive Support in The Carol Tuttle Healing Center
The Carol Tuttle Healing Center gives you access to online healing sessions and plans that support your emotional, mental, physical, and spiritual well-being. At a time when so many intense emotions are being stirred up, these sessions calm and recenter you in 3-12 minutes. They guide you through the healing work we would do together if you visited me personally as a client—but you can access all 130+ video sessions directly from home at any time of day.

Start your 14-day free trial Log into your membership
Top 12 Healing Center Sessions for Pandemic Stress & Fear
Center Yourself & Strengthen Your Immune System Response
Being centered and purposeful at this uncertain time, and strengthening your immune system, are more important than ever. Let's all join together in the effort to become stronger and healthier. An easy way to achieve both is to add essential oils to your daily health routine.

See simple ways to use essential oils
See Carol Tuttle Healing Oils to support your well-being
Supportive Reading for Your Quarantine Time
Over the years, the books I've written have taught how to be conscious in a world that isn't. As we move through an intense time of global fear and uncertainty, you can remain grounded and intentional. Whether you need insight to center your energy or support to parent your children who are now home all day, I have book that will help you move through this experience with more grace and ease.
Which book do you need most?
Current Shipping Updates
The Healing Center is available for instant access online. For physical products (oils and physical books), the following updates are in effect:

Orders to the U.S. and these International Countries: Canada, UK, Australia, Sweden, Denmark, New Zealand
We ship daily from a small warehouse that is regularly disinfected. Due to shipping carriers, some delays may occur that are out of our control.

International Orders
Shipments outside the U.S., Canada, UK, Australia, Sweden, Denmark, New Zealand are temporarily suspended. Varied responses across countries have made it too difficult for us to ensure your package will arrive. We hope to resume all international shipping soon.

Thank you for your patience and your business at a challenging time!