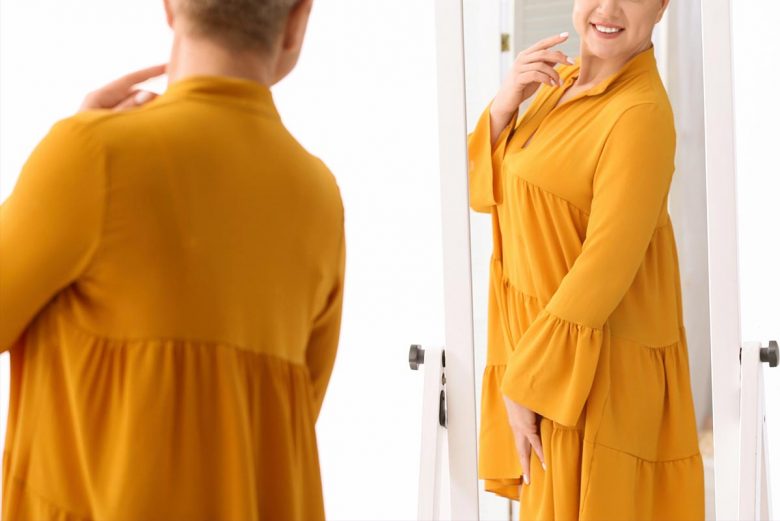 Do you ever have days where you catch sight of yourself in the mirror and cringe a bit?
Deep down, you don't want to admit you're unhappy with your appearance—you wish you could love the way you look. But when you add in the stress of the pandemic and current events, loving yourself seems like the last priority on your list.
I know how challenging this can be. For many years as a young girl and young adult, I hated the way I looked too. I would even scribble out photos of myself in my yearbook. But through my Dressing Your Truth system, and a whole lot of healing, I can now say I love myself—and actually mean it.
That's what I want for you too.
The journey to healing and loving yourself essentially has 3 steps:
Clear the blocks and energy keeping you stuck
Replace the old, negative beliefs with new, positive affirmations
Take action based on your new beliefs
1. How to clear the energy that's making you feel unattractive
Every single woman is beautiful. That includes you. But so many women don't feel like this is true about themselves. We're going to change that!
I recently created four new clearing sessions in The Carol Tuttle Healing Center to specifically help you with challenges related to beauty, style, and self-image.
If you're already a member of the Healing Center, then you have access to these brand new clearings immediately. If you're not yet a member, sign up for your 14-day free trial right now!
Join the Carol Tuttle Energy Healing Center
2. Add positive affirmations into your daily routine.
Now that the old energy is cleared away, you need to replace the negative beliefs with positive ones. It's simpler than you may think. Remember the mirror you used to stand in front of to pick out all of your flaws? Let's put that mirror to good use instead.
Get a dry-erase marker or a post-it note, and write one of these new affirmations on your mirror every week.
1.      I am a beautiful woman
2.      My body is a wonderful gift and I love it
3.      I love how I look when I look in the mirror
4.      My hair is so easy and it turns out exactly how I want it every day
5.      I am motivated to take care of myself as a response to the truth that I am beautiful
6.      When I am in my closet it reminds me of the truth of who I am, and that I am beautiful
7.      I feel comfortable, healthy, and alive in my own skin
8.      I am just as beautiful as other women, we are all beautiful
9.      Comparing myself to others is a thing of the past, I now know that all women are beautiful, especially me
10.     I am comfortable getting my picture taken, I love what I see in myself
11.     People are drawn to me because I am confident in the way I look
12.     My body is beautiful and I accept it deeply
13.     I love my face. When I look at my face I see a kind, loving and beautiful woman staring back at me. I see the good in my face and absolutely love every part of my face
14.     I am aging beautifully. I am comfortable with aging. I make correct choices for me that support every part of my body as I mature and get older
15.     I am viewing myself through loving and kind eyes. I see my truth, and that truth is I am beautiful
I also recommend using the "I am confident" healing oil along with these affirmations. This oil is designed to strengthen your self-esteem, elevate positive thinking, and clear the mind of negative thoughts. It will support you in tapping deeper into the truths of who you really are, so that you can take inspired action, which leads us to step three.
3. Make new habits that reflect your new beliefs
Commit to making small and positive changes in your life so you build up your self-esteem and trust again.
You may even surprise yourself and take a huge leap of faith! Some women just like diving in and going for it as part of the healing process.
One of my Healing Center members McKenna shared this incredible story as a result of her own healing work.
"Sooo ladies, I DID IT! Wore a bikini this Thursday for the first time in five years!
"It was so interesting (and ended up being hilarious!) watching the process I went through with this. After I made my last post here on Wednesday, detailing the physical healing work I'm doing and the challenge, I chose to go buy a bikini and accept an invite to go swimming.
"My entire family is loving the HC, so I filled them in that morning on what I was doing, and we all had a blast watching my behavior as I worked through this.
"By the time I showed up at the pool in my brand new beautiful T4 bikini…I was READY! It was easy and fun, I felt a new appreciation for my body, it felt so good not to be hiding, and I can't even describe how good freedom felt. 🖤"
Are you brand new to this healing work and don't know where to begin?
I'll help you figure out where you're stuck. Take my Stuck Quiz to see exactly what's going on. A lot of women are surprised at the results, but many find confirmation from this easy quiz.
Leave a comment below and tell me what you'd most like to heal in your life!
Bless you,