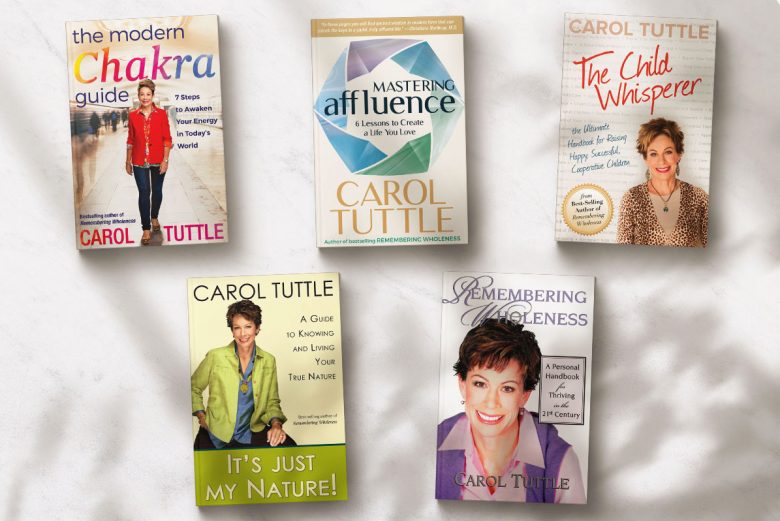 From the moment you open your eyes in the morning, until the moment you go to bed at night, your inner world is constantly being challenged. With the news, social media, politics, and chaos from other current events, it's easy to get sucked into a negative place.
Reading books can be an escape from the stressful world around us, but what if you chose to read books that helped you remain balanced, calm, and grounded throughout the turmoil—instead of escaping?
As a master energy healer, I've written several books over the years to help you do just that. I can tap into the energy of the collective and know what we all need. When I write books, I'm divinely guided in the writing process to provide practical and useful ways that help you both heal fully and live fully at the same time.
5 Books to Guide You Through the Current Events
What's a better way to get through these tough times than to learn about how your Type relates to and moves through the world—in all situations?
And that's exactly what this book will help you do. It's a must-have for anyone just beginning their journey into Energy Profiling. It teaches a comprehensive study of the 4 Energy Types and how they express in the nature kingdom and human nature. It includes personal profiling assistance and specific details on how to learn face and body profiling.
One of the reasons Energy Profiling can be so supportive during this time is that it helps us understand the way we individually handle challenging situations.
One example is a hard conversation about politics. Depending on your Type, you may want to avoid "heavy" topics and look for a way to lighten the mood (Type 1). Maybe you'll be invested in all the details, yet want a comfortable experience for everyone (Type 2). Do you come across as "intense" or "too much" when you get passionate about the topics you care about? (This is typical of someone who is a Type 3.) Maybe you expect to be treated with respect as the authority figure when you engage with others in a logical, factual manner (Type 4).
That's just a glimpse into one area where Energy Profiling shows up. To get the complete picture of each Type, read It's Just My Nature.
You've been there…
Feeling stressed, worried, or exhausted by your child's behavior.
In The Child Whisperer I'll show you how your children give you the solutions to your biggest parenting challenges. Their unique joys, worries, and even tantrums give you clues. By using this simple but unique approach, you'll be able to customize your parenting so you can motivate your child without a fight and build a more harmonious parent-child relationship.
Now that you're spending even more time with your children than possibly ever before, knowing their Energy Types will bring more peace to your home. You'll know how to support them during quarantine, distance learning, and anything else that comes our way.
Are you in control of your life—or is your life in control of you?
When life is stressful with so many events happening outside of us, it's easy to feel as though we're not in control of our own lives. This book helps you see all the ways in which you can control your life experience. I show you how to start doing so with your energy, thoughts, and beliefs.
Remembering Wholeness is a simple and profound approach to creating the life you want and deserve. It will help you actualize your own innate powers and the powers of heaven to assist you in doing so.
What my readers are saying about Remembering Wholeness:
"My mind is spinning thinking of all the ways this book will be useful to me, my family, and my friends. I need this information in my home and in my life."
"Reading this book opened me up inside. It was real and immediate. I opened up to the dreams of who I wanted to become for many years. Reading it was like being filled with light."
"Powerful stuff! I actually felt a power coming off the pages of the book as I read. I can't imagine reading it just once. It is a book I will keep going back to."
"Before I even finished the book, I felt confident and understood that I had the power to change my life with the assistance of spiritual powers beyond myself."
Imagine how rich life would be if you felt mentally clear, emotionally balanced, and spiritually inspired every day.
How much good could you do if your body always felt strong?
Where would you travel or who would you help if you had plenty of money?
How grounded would you be if you had a conflict-free partner relationship that nourished you?
This book guides you through 6 simple lessons to clear away longstanding patterns of struggle and replace them with ease and joy. Mastering Affluence won't just help you feel optimistic about having a better life. It guides you through a personal process to actively create one.
I recommend going through this book over a 6 week period. You'll fully immerse yourself in each lesson for one full week, and you'll come to the end of this book with your life changed.
This is my newest book, and it's entirely focused on helping you activate your own powerful energy system.
The world is going through an energetic shift—and this book shows you how to rise above the chaos.
With reassurance and timely insight, my personal perspective will help you counter the confusion and fear of today's world.
Through this book, you will be able to feel more daily joy, navigate the energetic shift of our time, and awaken your energy to upgrade your life. If you are a person who wants to feel balanced and joyful—even with today's world swirling around you—then this book is for you.
Which of these books will you read next?
Leave a comment and share how these books have impacted your life. I love reading your experiences, and I know others in our community will be inspired too.
Get any of my books here!
Bless you,