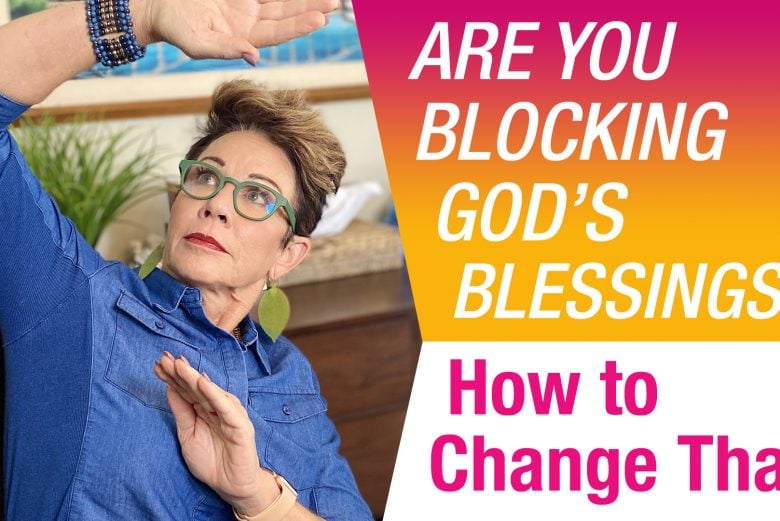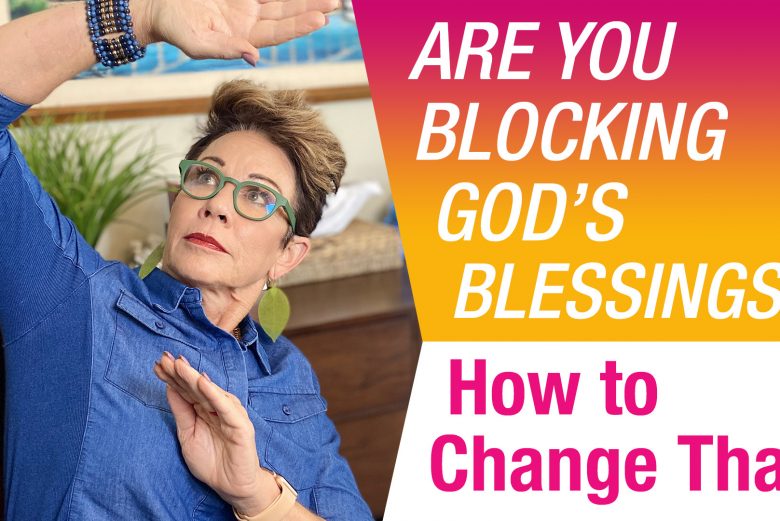 I know you don't want to block God's blessing—no one does! But I've found that we can get in the way and keep ourselves from the blessings he's willing to give.
You might be doing everything right—like going to church, reading the Bible, tithing, and praying. But, still, you don't feel the blessing of God. You are asking, "What am I doing wrong? Why don't I feel God's blessing in my life?"
Sometimes, when we try to take things on ourselves, we aren't genuinely pursuing Jesus or believing him. We can stick with an old, ugly mantra of "I am not worthy." But, he promises to make us worthy. We have intrinsic value as beings made in his image, according to the very Word of God.
The God I know is loving and generous. He wants us to be happy and live a life full of meaning. Over and over, the imagery God gives us is as a heavenly father. A father wants what is best for his children.
"Which of you, if your son asks for bread, will give him a stone? Or if he asks for a fish, will give him a snake? If you, then, though you are evil, know how to give good gifts to your children, how much more will your Father in heaven give good gifts to those who ask him!" Matthew 7:9-11
We have to receive His blessings with openness. In this blog, we will talk about signs that you are a blessing blocker and what to do to change that. I want you to open yourself to what God's word promises and receive the blessings he is sending your way.
Signs that You are Blocking God's Blessings
You can push God's blessings away with your unbelief. You need to allow good to manifest. I want you to take a moment and focus on each one of these statements. Do they sound familiar?
You are discontent with what you have in life.
You complain a lot.
You are not a blessing to others.
You are consumed with thoughts about what you do not have.
You feel hopeless or jaded with how things are.
These are all signs that you are blocking God's blessing. Maybe you only do one or two, but if you are guilty of doing even one, you may be acting in unbelief, selfishness or arrogance.
Let's address what thinking needs to change to remove these obstacles from your being.
Limiting Beliefs that Block God's Blessing
What you really believe will manifest itself in action and words. In order to stop deflecting blessings or acting in unbelief, you have to address the root cause.
Thinking You are Not Worthy: This could be a thinking that stems from early childhood experiences or something more recent. Deep down, you may not believe you are worth the time, money, or attention of others—which you hold onto as true in your relationship with God. Change your internal mantra to "I am worthy and open to receive the blessings that are timely and correct for me." It is important to realize you do not need to impress God to earn blessings. Your value comes directly from his Word and sacrifice. He has already promised to bless his children.
Lack of Faith in God: God does not give you blessings because you demand them or pray hard for them. You need to believe he loves you and has a will that is best for you. If you don't believe what God has already promised, it is going to be very hard to receive what he gives you as a blessing. Stop living with unconfessed sin, wrong motives, and believing the lies of the enemy. Change your life to align with his commands and pursue faith through gratitude.
Relying on Your Own Perspective: Not all of our feelings are always in line with the truth of the situation. Remember stories, like Job or Jonah, where the will of God was not understood by men. The Bible is full of examples of people who complained in the midst of God's blessing, and he did not take them further because of it. Remember the Israelite generation that had to wander the desert because of their unbelief and complaints? (Numbers 14:23) Keep practicing affirmative prayer and opening up the funnel, visualizing the blessings coming to you.
Believing Your Happiness is Related to What You Have:  Some see money and success as the only way they can be happy. But I want you to realize your happiness is not dependent on money or praise. No matter what stage you are in, you can be grateful for the blessings you have—even if they are small and humble. Learn how to learn to trust God and thank him while you don't have a lot. When cash and success do come, you will have already learned how to be grateful.
Thinking You Are Exempt from Blessing Others: Luke 6:38 says, "Give and it will be given unto You." Stop thinking you aren't in a place to bless others! I have seen a selfish heart completely block out the truth and blessing of God. I'm not just talking about being selfish with material things or money–but time, forgiveness, grace, and other things that could bless someone else. Could you be blocking God's blessings in your life because you refuse to believe him when he says to bless others?
How to Stop Blocking the Blessings God Offers
There are many ways to pursue God, but let's talk about three important things you need to do right now to remove the blockades you have unknowingly put up.
1. Visualize Your Belief and Acceptance
I want you to push away the negative thoughts and energies that are blocking your belief in God. Free up your energy by removing those heavy burdens that are going to weigh you down and force you into a shell of doubt.
Open yourself up to his word and blessing. Visualize a large funnel above you and blessings being poured onto your head. Believe what God has said about blessing his children. Repeat truths about your value, your status as a Child of God, and the gratitude you feel for the blessings you have.
2. Practice Affirmative Prayer
Start from a place of gratitude, acknowledging all he has done in your life. Don't come to God only when you want something from him. He is not a vending machine that doles out snacks and goodies. He is a creator and far above us, but he has said he invites us to commune with him.
Take time to acknowledge who he is and his awesome place in this universe. Instead of pleading for the things you want and don't have, like freedom from debt, use affirmative prayer. "I am grateful, God, that you have made me capable of being a good steward and making wise decisions with the resources I have."
3. Become a Charitable Person
When we hoard and hold back what we have from others, we act in unbelief. Look for ways you can be a blessing to those around you and do not dwell in a place of unforgiveness. "Each of you should give what you have decided in your heart to give, not reluctantly or under compulsion, for God loves a cheerful giver." (2 Corinthians 9:7)
Focus on giving to those who aren't in a position to pay you back. Luke 6:32 challenges us to stretch who we call our neighbor and seek to bless: "If you love those who love you, what credit is that to you?" This doesn't mean you shouldn't bless your friends and loved ones, but that your love shouldn't stop there.
Don't do it for the recognition or the repayment. And don't go beyond your means and act in poor stewardship. Find ways to give your time, gifts, and talents to others in ways they can truly benefit from.
Trust that God is Sending His Blessings
When you aren't actively blocking God, you will be open to blessings he sends. But I want you to be careful not to miss them because they don't look how you thought they should look!
Sometimes the blessing is in the lesson or the experience. God wants you to grow in your walk with him. He wants us to rely on him, believe his words, and be a light to those around us.
Watch for the blessings that show up in your day-to-day life. They are already there, and more are coming. Keep praising God because he is good—all the time. I hope you know that, and you are starting to see how this truth can impact your life. I have experienced God as a loving heavenly father, and I want that for you too.
There is so much to enjoy when you can glean from the storehouse of God. God's will is never thwarted, but he calls us to act so we can benefit from his blessings and not suffer in our unbelief.
Are you ready to find God's blessings in your life?
Stop the negative energy and enjoy what he sends your way.
I want to encourage you to join my 30 Day Money Cure, where I am offering insight into stabilizing your finances during this pandemic. Open your doors to God's favor and enjoy the supernatural peace he brings to your life.
We this "once a year" online experience on May 18th! Sign up today!