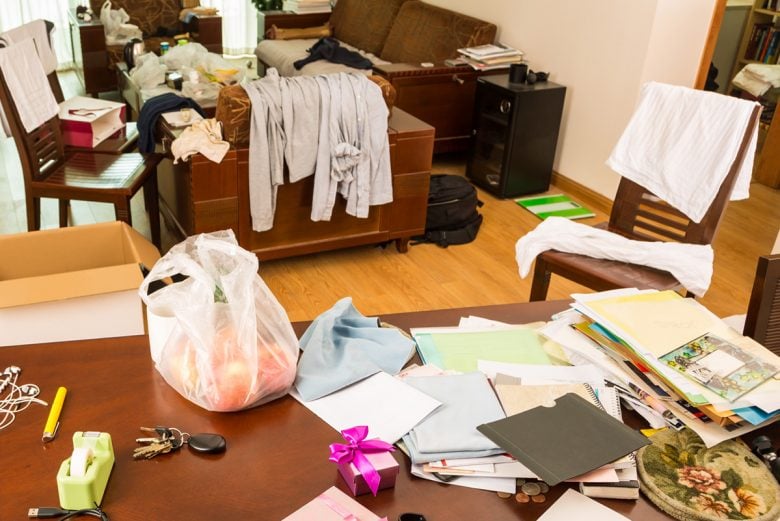 Clutter. It's overwhelming. You try to keep up with it as much as possible. But it feels like as soon as you take care of it, it's back before you know it.
As popular tidying methods sweep the nation, households everywhere are eliminating clutter, donating bags of unwanted items, and saying good-bye to clothes that no longer bring them joy.
If you've gone through a similar method of de-cluttering your home, only to be back at square one within a couple of months, you could be missing an important piece that's needed if you want to clear your clutter for good.
Or what if you don't even know where to start when it comes to clutter?
You're not alone. In fact, one of my Healing Center clients recently asked this question:
"Is there a Healing Plan for clutter? I have boxes and boxes and boxes and piles of stuff (mostly paper) and just can't even start to deal with it. I'm sure my personal issues are connected to the clutter. Is there a healing session for dealing with this issue?"
The answer is yes! First, let's take a closer look at clutter and what it means in your home.
Where does the clutter come from?
Your "outer" clutter is just the physical manifestation of your "inner" clutter. In another sense, your outer world is a mirror of what's going on internally for you.
If you're experiencing unhealed emotional stress, overwhelm, or trauma from your past, that will show up in your physical environment.
You see, until you open the inner space for healing, it won't matter how many times you clean up your outer space, as you will recreate the physical clutter.
Without even realizing it, when you focus on the physical clutter in your outer world, it's actually a distraction from addressing your inner clutter. All your physical clutter shows up as interference and keeps you stuck in the cycle of stress, frustration, and uncertainty.
How to get rid of your clutter for good
1. Do an inner clearing.
Do the Clearing for Stuck Energy. It's part of my free Masterclass that you can go through today after completing the Stuck Quiz. This Masterclass helps you feel calm and peaceful, so you'll be able to make decisions better.
2. Set an intention.
"I am motivated to easily clear the inner and outer clutter in my life."
Intentions are powerful. Set a strong intention that as you shift your inner space, you will become more and more uncomfortable with the clutter in your outer space until you can't stand it anymore so you'll clean it up!
3. Move into action.
Now it's time to start the process of decluttering. Make time to clean up one space in your house – little by little.
Still feel stressed about starting? Consider using this Healing Oil, "I Am Purpose" to help remove any mental blocks and blinders to allow a clearer vision as you clean your home. You'll feel more confident to take the next correct steps in what you are called to do.
As you clear up your inner and outer clutter, you'll have more time for what really matters in life.
Keep doing your inner work, and watch your outer world transform. In The Carol Tuttle Energy Healing Center, every Healing Plan is supportive to help you shift this.
One of my Healing Center clients, Noelle, agrees: "Yes! I totally relate to this. I've always had a lot of clutter on the dining room table and the kitchen counters, in particular. After I completed my first round in the Healing Plan for Weight Loss, I was prompted to KonMarie my papers. It's been 3 weeks and my table and counters are still completed clear and it's taken literally no additional effort on my part!"
Clear your clutter for good with the Healing Center.
When you remove the energy, you'll remove the "stuff" too.
I give you two free weeks to experience all that the Healing Center has to offer, so you can see just how powerful it is.
Start your (FREE) complimentary two weeks here!
What are your own success stories that have come from doing the inner work? Share in a comment.
Bless you,