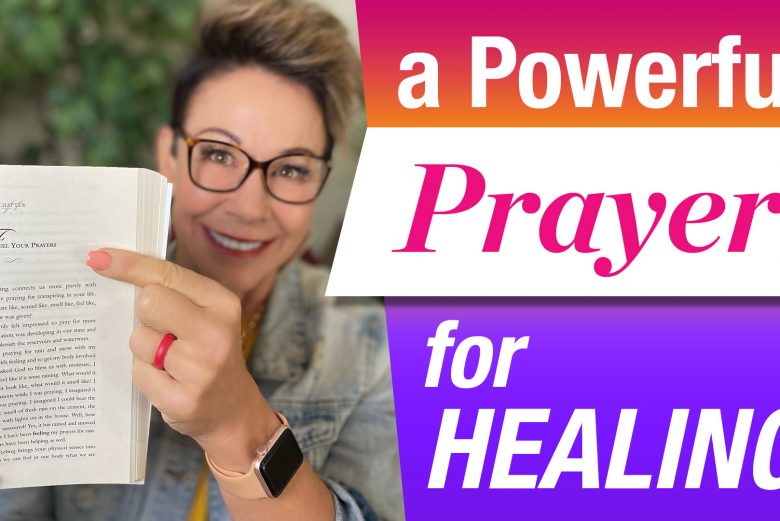 There are a lot of problematic views of God floating around out there. When it comes to your prayer request and personal journey, it's difficult to experience the beauty and wholeness if you have a view of God as an intimidating judge who only keeps track of right and wrong. He supports our wellness and wants what is good for us as his children no matter what we do or don't do!
"See what great love the Father has lavished on us, that we should be called children of God!" John 3:1a
We can use prayer for spiritual healing, remedy of illness, to fix discomforts and to mend brokenness. Prayer is very powerful and opens the potential for God to bless us because we are open to Him.
Remember all the times Pharaoh hardened his heart against God before God gave him over to his true desire to reject God, taking even Pharaoh's son from him. And then contrast that with the story of Hannah, who prayed for a son and was blessed with Samuel. In many of the other Biblical stories where people prayed with the right attitude toward God, they opened themselves up to the blessings God had to bestow on them.
You might be struggling with a loss, trapped on a sickbed or a holding deep desire. Perhaps you are dealing with the pain of heartbreak or you have a physical pain that lingers and won't leave. Healing can take place when we pray and prayer is more powerful than all other remedies. Even as you are seeking out medical help or on prescribed therapies, praying to God can speed your recovery or cause miraculous healing to bring you to a place of peace and comfort.
So, how do you pray for healing? What does it mean if you have prayed countless times and you feel ignored and alone?
Prayer is how we communicate to God and sometimes it can be difficult to see how He is speaking back to us. I know how it feels to be struggling with something you can't seem to overcome or get away from. I have found immense comfort and healing from prayer and I want to share that with you.
Praying to a Father of Generosity
The key thing to remember is: even when God doesn't choose to heal, we trust him as supreme.
Before I get into how we can use prayer to pursue healing, I want to remember what some very wise men in Babylon once said:
"If we are thrown into the blazing furnace, the God we serve is able to deliver us from it, and He will deliver us from Your Majesty's hand. But even if He does not, we want you to know, Your Majesty, that we will not serve your gods or worship the image of gold you have set up."
Yes, this was the response of Shadrach Meshach and Abednego to King Nebuchadnezzar in Daniel 3:17-18 when He wanted them to worship his giant idol. Our God can save us…but even if He does not we will believe He is Lord and Sovereign. Your healing may serve a greater purpose, or your suffering may serve a greater purpose. We are often refined by our journey when we let God work on us in our pain and frustration!
Paul prayed for his thorn to be removed three times in 2 Corinthians 12:8-10 and God responded "My grace is sufficient for you, for my power is made perfect in weakness." Yet, this doesn't mean we shouldn't ask! God's Word very clearly tells us:
"Do not be anxious about anything, but in every situation, by prayer and petition, with thanksgiving, present your requests to God. And the peace of God, which transcends all understanding, will guard your hearts and your minds in Christ Jesus." – Phillippians 4:5-7
Every situation. Everything that is hurting and causing you anguish—bring it to God.
Let him choose whether He will bestow peace or healing. He has promised not to leave us alone or forsake us. But we should always make these requests with thankful hearts that are open to his grace and peace! And then we should trust his choices in how things play out.
But, we can't open ourselves up for this healing if we stay stuck in our own worries and perspective.
Prayers for Healing
We can come confidently to Father God. He tells us over and over again how much He cares about us and what happens to us. In order to experience the promised healing of God (whether in body or spirit) from our prayers, we have to:
Fully trust God
Believe in His complete power
Approach with the reverence and gratitude He deserves
In some cases you will be healed immediately. Praise God. There are times even doctors have no explanations. In other cases, you will be given that promised peace and grace (if you are open to receive it) and healed gradually. None of us will stay in this state forever.
Sometimes God will use conventional ways to help you find relief or healing. Sometimes He will have a journey for you to go through. But He can use everything for your good and His glory if we let Him! And, if we don't let Him, His Will still happens, but we sit unyielding and hurting like Pharaoh.
Visualizing Answered Prayer
There are many ways to pray, but I find it very helpful to visualize. When you want to realize something in your life, you visualize to focus your energy on accomplishing it. In a similar way, you should focus your energy and belief of the reality that He can heal you completely.
I like to sit in stillness and envision my request. Quiet meditation helps me consider who God is and who He has made me to be. I consider my feelings of thankfulness and awe. And then, I visualize exactly what I'm asking for and what it feels like to receive it. When I ask for healing, I picture that healing happening and my health being restored. I know God is able and I know He will heal me now or in the future. I have no doubt.
Healing Prayers of Gratitude
You know healing will occur. So you can pray in gratitude for what you know God will heal. Here is an example from my book:
Thank you for the opportunities that are being orchestrated on my behalf to further my work here on earth.
Thank you for forgiving me and always loving me.
Thank you for always being there for me.
Thank you for flowing the healing energy to me to bless my life, my body, my family and for the power of the grace that I can receive to assist me in being more of who I really am.
I am grateful.
I am appreciative.
I am blessed.
– Remembering Wholeness
Healing Prayer for Loved Ones
And, don't let your prayer only focus on your own needs. Prayer is powerful when there are multiple children calling out His name in faith. Pray for those you care about and ask that they pray for you. Be specific in your request for healing a loved one and focus on spiritual strength and healing just as much as (or even more than) physical healing.
A Short Healing Prayer for Friends
Dear Lord, You alone know the needs of my friends. Only You know what is best for them during this difficult time in their lives. I know that you will provide the healing and restoration promised in your Word to those that serve you faithfully. I believe Your words, God, and I am so grateful for that comfort in knowing you are always right and always faithful. Above all, please guide my friend toward You in all things, protecting her from any lies or discouragement. Thank you for Your comfort and healing touch, God. Amen.
A Prayer for Healing the Sick
Lord Jesus, only You know what is truly needed in our bodies. We live by Your Word and not bread alone. We are sustained by Your love and Your Holy Spirit, and not our own power. Thank you for reminding us of our powerlessness and your mighty power over all things. In your Word, you command we bring all things before you in prayer and petition.
We are in need of your healing hand in [name of person sick]'s life. We know it is as simple as a word from You and everything would be restored. You have power over all illnesses and every atom of our being. What you say, Lord, will happen. We also know Your Will is supreme and you are in control of all. From our first breath to our last, we will praise Your name.
Please bring complete healing and better health if it is Your Will during this hard time. We are so grateful that this state will not last and we know You have promised healing, whether it is now or in the future, to the body and soul for eternal life. Amen.
A Prayer to Heal Depression
God Almighty, You have given us cause to hope and not fear. You have said "be joyful always" and we know you offer that perspective. I feel like the world has collapsed and I am in a deep pit. The Psalmist expressed these feelings when he wrote, foreshadowing the Christ: "Why, Lord, do you reject me and hide your face from me? From my youth I have suffered and been close to death; I have borne your terrors and am in despair." I feel despair, God, and I want to feel your joy.
Heavenly Father, I know I am not alone in these feelings and I know You have promised to be with me always—even when my small mind and perspective can't understand Yours. I feel deep gratitude for [consider what you do appreciate in your life]. Please keep my mind from lies. Please help me focus on your truth alone.
I know I am loved. I know I am a Child of Yours because of Your Son. I know You are near me and You will give me peace in the name of Jesus. Amen
A Prayer for Healing the Hurt
Jesus Christ, You are my Rock and Fortress. Please help me shelter under Your wing and feel Your presence. Let my focus be on you and help me stop dwelling on myself over all. My hurts and frustrations are real, but You see over all. Guide and strengthen my steps. Renew my mind, o Lord. I know [friend in a tough situation] is really hurting right now. I pray for peace and comfort there. As they struggle, please let them see your strength and goodness in everything. Amen
Prayer for Easing & Healing Pain
Great Father in Heaven, thank you for always being faithful and true to us. We can count on your mercy and goodness. You have set creation around us to remind us of beauty and power, but we brought in suffering and sorrow. We cry out in our physical pain now, dear God. We know you care deeply for us and have the full power to ease that pain. We are grateful you will ease that pain and wipe away every tear. We ask you to hasten to us and do what we do not deserve.
We thank you for healing the brokenhearted and healing our wounds, as your Word says. You are the God of the oppressed and suffering. You will bless us and bring truth to us. Give us now, your grace, mercy and peace. Turn discomforts into comforts and struggles into strength. We ask for healing power in Jesus' Name, amen.
Healing Bible Verses
God is not a vending machine. He is a person who cares about his children. We need to approach Him with the respect and relationship He deserves—not a list of demands. Let's consider what the Bible says about healing.
1. The Word of God is what keeps us whole. Without His Words, what are we? "My son, pay attention to what I say; listen closely to my words.  Do not let them out of your sight, keep them within your heart; for they are life to those who find them and health to a man's whole body." – Proverbs 40-22
2. God can save us and heal us with His Word alone. His love is unfailing and He rescues us from ultimate death."Then they cried to the LORD in their trouble, and He saved them from their distress. He sent forth his word and healed them; He rescued them from the grave. Let them give thanks to the LORD for his unfailing love and his wonderful deeds for men." Psalm 107:17-20
3. God's Will is supreme. His choice in the timing of our healing and saving is His alone and we rejoice in who He is. "Heal me, O LORD, and I will be healed; save me and I will be saved, for you are the one I praise." Jeremiah 17:14
4. Those who believed were healed. Often, their sins were forgiven as well. Which is more important? "He said to her, "Daughter, your faith has healed you. Go in peace and be freed from your suffering." Mark 5:34
"'Go,'" said Jesus, 'your faith has healed you.' Immediately he received his sight and followed Jesus along the road." Mark 10:52
"Which is easier: to say, 'Your sins are forgiven,' or to say, 'Get up and walk'? But I want you to know that the Son of Man has authority on earth to forgive sins." So He said to the paralyzed man, "Get up, take your mat and go home." Matthew 9:5-6
5. Confess to be healed in spirit and avoid temptation. Pray for each other."Therefore confess your sins to each other and pray for each other so that you may be healed. The prayer of a righteous man is powerful and effective." James 5:16
Join the Healing Center
I created my Healing Center to support people just like you in this journey. Whether your pain is healed now or part of that journey, the road to spiritual wellness is not one you make overnight and set on the back burner. God does the healing and we respond. Are we the seeds in the soil or the seeds tossed in weeds, on rocks or in the path?
To grow to potential, we have to keep the worries of the world, our unsubstantiated doubts and lies we hear in check. We need to meditate on his word and stay in faithful payer throughout this journey. I hope you will let me be part of that journey too. You can join me here.