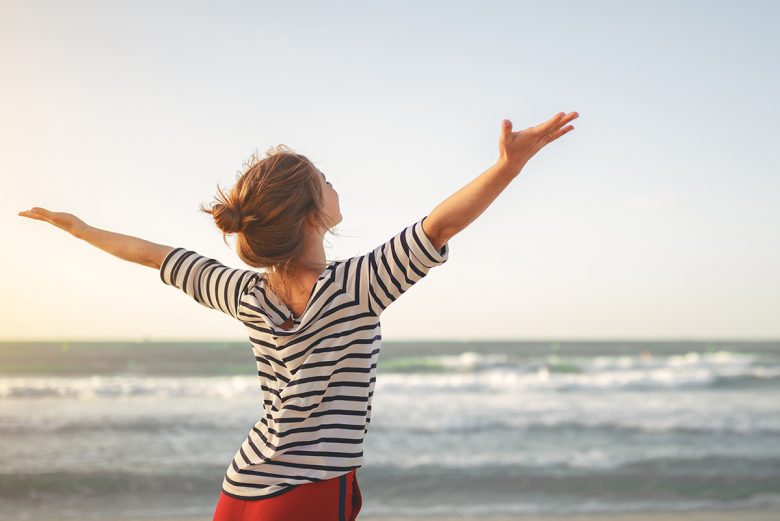 Think back to when you first started on your healing journey. You were at such a different place. What's changed since then?
For some people, the results come to mind right away. But for others, it takes a minute to think about.
How do you know when you've started to heal? Let's look at the 5 most common signs you'll notice when you're healing emotionally. How many of them are you experiencing in your life?

We can dramatically change our lives for the better when we commit to a "Year to Clear."
At the beginning of this year, I invited my Healing Center clients to join me on a journey of dedicating one year to heal various challenges. Because of their intention and focus, hundreds of them have gone from struggling to thriving.
As I teach in my book, Mastering Affluence, the state of affluence is your natural state, your God-given creation that you are awakening in your being. As you clear away the old energy of lack, pain, and struggle, your natural state just comes to life. How do you recognize when that's happening?
Here are the most common signs that show you you're healing emotionally:
Your thoughts are more positive and calm.

As you learn new skills and practice them, this becomes your new reality. Fewer struggles show up, and stability comes into your life.

To a degree, your inner happiness is still influenced by circumstances in your outer state. And then, something magical happens. You begin to feel the constant of peace, joy, and true happiness for no apparent reason!

My client Chemain shares:

"The greatest change I've seen has been in my inner world. I'm much more aware of my thoughts and how they're shaping my reality, and I'm much more understanding and forgiving of others. A year ago, my husband and I were not in a good place, but things continue to get better and better. I am blessed; I am grateful."
nbsp;
Life feels like it's getting better.

You experience moments of "all is well." It's almost like you're suspended in pure happiness.

I remember one of the first times when this started happening for me several years ago. I was driving in the car one day and I started to feel happy without that feeling being attached to anything happening in my life. It was a state of happiness without any condition and without any connection to any particular event.

That's what you're striving for—to get in touch with the God-given energy of affluence that you naturally hold in your being.

You might just sense it in periodic moments in the day when for no apparent reason, you're feeling pleasant or happy. You might sense it and notice it when things just line up for you, as your daily experiences open up and fall into place.

In my journey of shifting from a reality of lack, pain, and struggle, to a reality of affluence, ease, and joy, I have found the process takes time and it is something that happens piece by piece. We can shift our energy and our beliefs instantly. But the practice of shifting our entire reality (and making it stick!) does not happen all in one day.
nbsp;
Your relationships are getting better.

Whether you've made that your focus or not, your relationships are improving.

It's because you have put your energy, attention, and focus on healing yourself. As you heal inwardly, your outer experience reflects the higher vibration back to you.

One of my Healing Center clients, Megan, shared this:

"The biggest change I have seen is in my relationship with my husband. We were stuck in a pattern of avoiding our issues until they got too big and exploded into big fights. I went from feeling like a hopeless victim to realizing that I was creating my experience and I had the power to change it. Now, our relationship is truly thriving. We are no longer stuck in the cycle of avoiding until everything blows up.

"All of the Healing Plans have contributed to these shifts in my relationship. For example, as I healed my inner child in the Childhood Wounding plan, I was able to show up in my relationship from a place of balance. As I healed my confidence in the Healing Plan for Lack of Self-Confidence, I was able to more easily express my needs and desires.

"I am grateful that I have committed to a year in the healing center so that I have had time to get to my core issues. Things just keep getting better and better!"

Megan also shared a smart tip that has helped her get the most out of her membership: "I treat my membership in the Healing Center as appointments with 'my energy healer, Carol.' I schedule my sessions in my calendar as if I was meeting her in person and it really feels that way, only it's much more convenient in the comfort of my own home."
nbsp;
Your finances are improving.

Think back to where you were when you first started. Think about your bank account and wallet. The fear and anxiety you had about money.

Whether in big or small ways, things have shifted in your financial world.

Colleen is one of my clients and shares the following story:

"I'm still actively healing and clearing, but I have experienced tremendous change in my life over the past year in the Healing Center.

"Our family moved, and let me just tell you what we were able to manifest: a fully accessible home for our differently-abled child! As in- our home was built for someone in a wheelchair and my son has full accessibility everywhere he goes! I used gratitude praying, energy sketching, figure 8s, affirmations, and visualizations (all tools I learned in the Healing Center) to create the correct house purchase for our family. What showed up for us far surpassed what I thought was possible!! (So many other details of our move worked out perfectly because of the tools I learned!)"
nbsp;
Your health is changing for the better.

You probably have fewer colds and headaches, you don't experience as many aches and pains, and I bet you have lost weight—almost effortlessly.

Nenah has found this to be true:

"I've been in the Healing Center for 1 year now. Before, I saw negativity everywhere. The Healing Center helped open my eyes to life and the beautiful things. I had become envious of others living their lives, doing what they wanted.

"After the Weight Loss and Life Purpose Healing Plans, I had motivation to find what I wanted to do. For so many years I stopped wanting anything, thinking I couldn't have anything.

"I decided 6 months ago to start running—which was not something I did before and hadn't really done since my youth. I'm 40 now. I have ran four 5Ks in 6 months. I've lost 20lbs and have gained confidence and love in my body. I love myself because I am deserving to be loved…something that I rejected to have years ago.

"The Healing Center gave me tools to go and find life! To enjoy what we have now and not to let challenges stop us, to move forward."
nbsp;
There's still time to experience the "Year to Clear."
What are you ready to clear and heal before the end of the year? Now is the perfect time for you to begin a Healing Plan of your choice and watch the changes unfold in your life.
Why not end this year with the same motivation and gusto as most people start the New Year?
I'm here to guide and support you.
Join the Healing Center now!
Bless you,