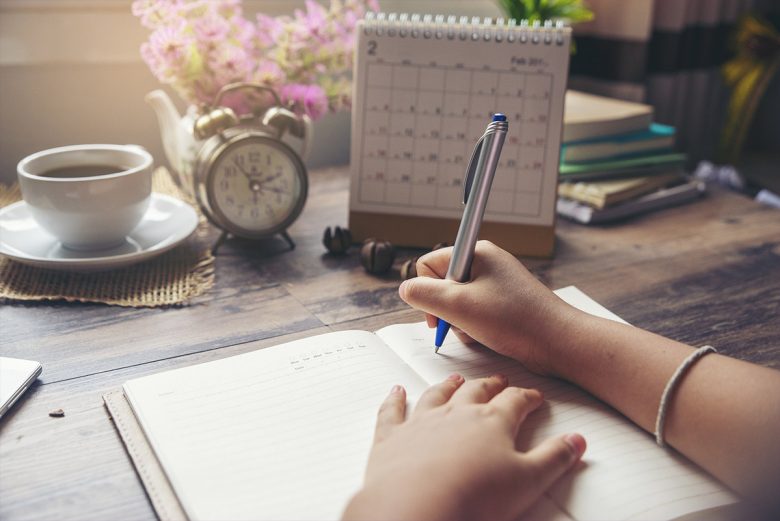 We're almost at the end of this year, and 2020 is right around the corner.
So many of us start the year off feeling enthusiastic about our goals and intentions, but then something happens. You find yourself fizzling out, falling back into old patterns within a few months. And then, come January 1st, we start the cycle all over again!
Let's clear that old pattern right now. It's common in our culture, but it doesn't have to be your experience! This exercise will help you end 2019 strong so you can create the life you want—right now!

Let's look at how 2019 went for you.
Think back on the goals and intentions you set last January. I encourage you to go grab your journal and reflect on your answers to the following questions:
How many of them are you still working toward?
How many of them did you already accomplish?
Here's an interesting question: Which ones do you feel called to let go of, due to your progress and healing this year?
If you've been a part of The Carol Tuttle Energy Healing Center in 2019, you most likely participated in the guided Healing Plans we all went through together.
What were you able to heal from any of those Healing Plans?
What did you release or let go of over the past 12 months?
What has changed the most in your life?
I encourage you to review the signs that show you're healing emotionally and then celebrate your accomplishments! Healing is life-changing work, and you've chosen to participate in it.
How to finish unfinished business in 2019
Now, it's possible that due to unforeseen circumstances, you may not have accomplished what you wanted. This can feel discouraging, especially as you watch others have big "aha" moments and profound experiences. It may make you wonder, "Does this even work? Am I doing something wrong?"
Consider the possibility that this is showing up for you as just one more opportunity to help your healing journey. It's not a failure. It's part of your own story. Take a deep breath and accept that you are exactly where you're meant to be right now. You are on the correct path for your soul.
How to clear what's keeping you stuck.
In your journal, write down 3 things you haven't finished yet this year.
Something's keeping you in this place of feeling stuck, unable to move forward. It's an energetic pattern that probably shows up in other areas of your life too—not just with New Years Resolutions and goals. Let's work on digging a little deeper and clearing those stuck spaces.
No matter what area of your life you are feeling stuck in, the most important thing you can do to free yourself up, to move forward, and to get things moving, to create what you desire is to clear the stuck energy.
3 steps to this clearing process:
Focus on clearing old beliefs and feelings along with life patterns by repeating negative statements and telling the energy to release.

Forgive yourself and others.

Repeat positive statements to activate the energy of truth that lies within you. This helps reorganize your personal energy system including your neural pathways to embrace these new beliefs. It will also set the energy into motion for what you are speaking to manifest into your life.
Let's start with an affirmation. Repeat after me. "I am releasing all known and unknown beliefs and emotions that are causing me to be stuck in life. I am free to move forward to create what I really, really want."
In the Carol Tuttle Healing Center, I created this Clearing Session for When You Are Stuck. It includes the full video that you can follow along with. For right now, here is a powerful portion of that script:
"Letting go of all the times I felt stuck during my childhood. Too small to do anything for myself. Letting go of all the times I've recreated these same experiences. Move forward along your timeline into your teen years and release any of the following from this stage of your life. Stuck because of a lack of confidence. Stuck because I need others' approval before I can move forward. Stuck because I don't have the money and the resources I need to do what I want. Stuck because I was not supported to learn what is correct for me. Releasing all of the times I have recreated these same experiences. Letting it go."
Doing this Clearing Session will help you release the negative emotional energy you have in your life that's keeping you stuck in the same place. It opens up your energy and frees you to step into a new physical experience.
Amanda shares:
"I have been feeling stuck, so I did the clearing. Carol recommends doing the Clearing Walk to ground that energy in. I found myself stating the good that I already have—which was good, however, I think it was a manifestation of "What you have is good enough." What I have is good, but wanting more amazing in my life is okay also. Being "good enough" is a limiting belief. I can be amazing! I was reminded of all the good in me. I can work on being amazing and having amazing things in my life one day at a time."
Clear what's keeping you stuck, so you can carry that energy into 2020!
In 2020, I'm offering continued support to all my Healing Center members in the form of several guided Healing Plans. You can view the 2020 schedule here. And now, you can join for free when you sign up for a free trial.
Start your 14-day free trial in the Healing Center today!
Join the Carol Tuttle Energy Healing Center
Bless you,