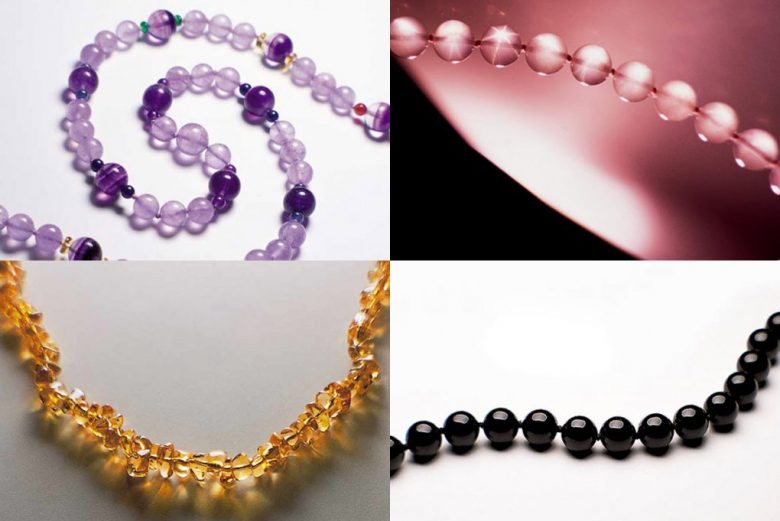 "Can therapeutic gemstones help me heal faster?"
Therapeutic gemstones may seem "woo-woo" or far-out to some, but I like to categorize them in the realm of God's tools. God created many tools from nature, whether they're herbs, essential oils, food, or therapeutic gemstones. All of these are a part of nature's pharmacy, and nature knows how to create restoration and healing.
Therapeutic gemstones work with your personal energy system without your thinking mind getting in the way. They allow your truth to come forward easily. Instead of being at odds with yourself, everything works together to support your personal healing.
When you wear these therapeutic gemstones in a necklace form, the energy from the stones radiate both internally and externally on your body.
Therapeutic Gemstones for Personal Healing
Anyone can wear any therapeutic gemstone and see benefits, but there are specific ones that will work with your own energy system and bring you healing in physical, mental, emotional, and spiritual ways.
General healing:
Quartz – Induces life force energy into your system. Imagine an IV tube of God's energy being infused into you. It supports our well-being and brings our true energy back to life.
Here's what Mandie, one of my Healing Center clients, shared about wearing quartz gemstones:
"Felt an energy shift right away when I put it on. Then a slow melting of tension from a knot that I'd had under my right shoulder blade for a couple of days. Had more energy over the weekend than I have in a long time (I usually feel zombiefied by the end of the week). Yesterday I had a PMS tension headache coming on and was also feeling sluggish and foggy-headed. I spent 10 minutes in quiet relaxation with my necklace draped across my forehead. The headache subsided and I felt more mentally clear.
"It's like I was trudging through mud trying to get the day-to-day stuff done plus find the energy to work on my healing. Quartz has given me the boost I needed to feel like I have enough energy to devote to my healing journey. I have to admit that I was skeptical that Gemisphere's gemstones could really be that different, now I'm a believer."
Mental healing:
Emotional healing:
Physical healing:
My Healing Center client, Christine, shares:
"I have onxy and I love my necklace! I can wear it all day and it has helped with anxiety and panic for me. It also helps me focus to get things done. It is a small 6mm 24-inch necklace but works so well. This was my first Gemisphere buy. My husband uses it too and wow, he really gets things done when he wears it."
Spiritual healing:
Why Gemisphere?
I've exclusively used therapeutic gemstones from Gemisphere for over 20 years. Their commitment to bringing only potent and effective products to the planet has set them apart from other companies. Their quality is one that I trust, and I have never purchased anywhere else.
In The Carol Tuttle Healing Center, I included two gemstones recommendations for each of the Healing Plans. Both gemstones were carefully selected for their healing properties as they will support you in moving through the clearing sessions and exercises more easily.
Be willing to invest in your healing and well-being. Believe you're worth it.
Visit Gemisphere today.
Bless you,