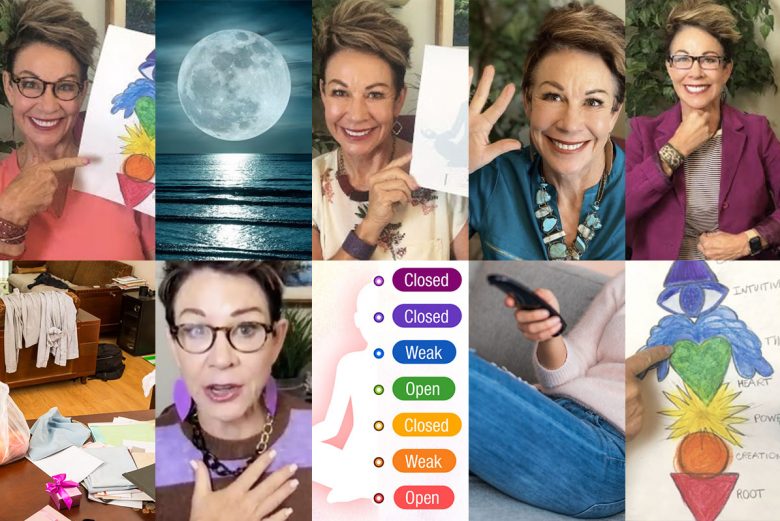 2021 is almost here! I want you to go into the New Year knowing who you are and opening yourself up to the affluence, ease, and joy that is available to you. It's part of my life purpose to support you with healing tools and resources to help you do that. This blog is one of those ways! Let's look at the Top 10 posts of 2020. Which is your favorite?
Clutter. It's overwhelming. As soon as you take care of it, it's back before you know it. But you're not alone! This is a common problem. And if you can't get to the bottom of it, you could be missing an important piece that's needed if you want to clear your clutter for good. Let's take a closer look at clutter and what it really means.
Although all of the seven chakras are significant, the Throat chakra has an especially powerful role in the impact we have on the world. Do you feel like there's a disconnect between your true feelings and the 'you' that you present to the world? Your throat chakra may be blocked—here's how to open it again.
How do you feel when you start a new diet, sign up for the gym, or begin counting calories? You probably feel forced into doing something, and there's a real sense of deprivation. Luckily, our chakras can help us manage our weight while not depriving us of the food we love! I've done it, and I'll show you how.
Get your Weight Loss Quiz results here!
Quarantine and social distancing was a new experience for all of us. At first, a lot of coaches and motivators told us we need to take advantage of our stay-at-home status. Use this time to skill up, get disciplined, finish projects, learn something new, and get a lot done. But this pandemic is working us at a deep level, calling us to process and shift. Here's how I encourage all of you to handle this intense energy.
As we move through this experience of a global crisis, it is normal to feel fear, confusion, and stress. We are currently living in a world that we do not recognize. With my unique gifts as a healer, I recently recorded a very timely clearing session to help you acknowledge your state of emotion, own the energy, and reframe it.
Do you ever feel like giving up on your healing journey because you just don't feel like anything is happening? It's easy to focus on what's still uncomfortable and problematic. We forget to look back and see how far we've come! Here are the 5 signs that you need to notice to show you're making progress.
You've probably heard the word "chakras" before, but do you know how important they are to your well-being? You have multiple chakras within your body and if they're blocked or unstable, it can cause mental and physical suffering. Let's take a closer look at the meaning of chakras and how they help you thrive.
You might have noticed changes within you around the time of a full moon and wondered if these effects were all in your head, or if they're real. Full moons do, in fact, affect us emotionally. When you're doing healing work, it can feel especially heavy during a full moon. Let's explore why this happens.
Chakras are a part of the spiritual world and I created this video to help you connect and understand the different types and their colors. Each chakra has a specific color, energy, and meaning that connects to us spiritually, emotionally, and physically. This video makes it easy for you to start learning about them.
When someone first hears about the chakra energy system, they naturally want to know which of their chakras are open, weak, or closed. I created this quiz to help you find out fast! Take the quiz to see which of your chakras are thriving, and which ones need a little support.
Which posts did you enjoy and find most supportive for you this year?
What kinds of posts would you like to see more of in 2021? Share your comments with me below!
And please share this post with a friend or loved one who you think could also benefit.
Thank you for reading this blog and watching the videos! I'm grateful for each one of you.
Bless you,